---
This screenplay seems to be made up from different separate stories. Parts of this book you can find in other screenplays by F. Zappa – Dwell and Hunchentoot. Read the C.Ulrich comments on Dwell page.
F.Zappa:
This cheesy little homemade book was prepared for the amusement of people who already enjoy Zappa Music. It is not for intellectuals or other dead people.
abebooks.com:
The book is written in quasi-screenplay style and contains tons of conceptual continuity stuff. It is partly narrated by Francesco Zappa, that obscure 18th century Italian composer, who in the book is now a short, paunchy man in his 50's living in New Jersey. I would have to say that the book is for fan's of Frank's work and it is those people who would find it hysterically funny.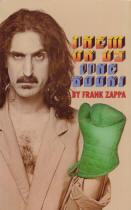 Them Or Us (The Book)

Pinter & Martin, London


2010 November
ISBN 978-1-905177-56-1
360 pp, paperback, 21,5 x 14 cm
English
---
This is facsimile edition and exactly copies all the content pages of the original edition. The cover is slightly changed. Big change is format, which is half of the original edition. Publisher Pinter & Martin can ship only to UK. For the rest of the world - try BookDepository.
"In 1984 Frank Zappa self-published Them or Us, created with a dot matrix printer. This facsimile edition brings this seminal work on conceptual continuity to a new generation of fans who have outgrown the ordinary."
News/reviews
Them Or Us out @ zappateers
The Idiot Bastard
Bookshops